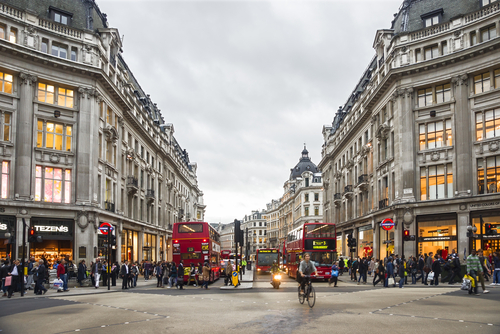 March 16, 2017 11:36 am
As one of the finest shopping cities in the world, you will be spoilt for choice in London. With endless streets filled with flagship stores, magnificent jewellers and lavish boutiques, you may not know where to start. Don't worry; we're here to guide you in the right direction, around some of London's familiar shopping streets.
Oxford Street
At the heart of London, you will find one of Europe's favourite shopping locations; the vibrant Oxford Street. With over 300 shops, there's something for everyone, from a beautiful bargain in Primark to swish designer items in Selfridges.
New Bond Street
If you're looking for some extravagant retail therapy or want to invest in some luxury jewellery, New Bond Street is the place for you. With elegant stores ranging from Burberry to Cartier, New Bond Street is popular with celebrities.
Notting Hill
Well-known around the world thanks to the film starring Julia Roberts and Hugh Grant, Notting Hill is home to a variety of quirky shops selling all kinds of unique antiques and rare vintage clothing.  The well-liked Portobello Road Market is set out daily and popular for its vibrant stalls.
Canary Wharf
In London's Docklands you will find the trendy, state-of-the-art Canary Wharf, which boasts well over 100 shops in addition to countless leading UK businesses.
Savile Row
If you're after a handmade suit, Savile Row is the right place to shop, known primarily for its old-fashioned bespoke tailoring.
Convent Garden
Another one of London's hottest shopping locations; Convent Garden attracts excited fashionistas and food lovers from around the world by offering stylish clothes, quirky gifts and unusual sweets.
Categorised in: London Activities
This post was written by Innermedia Ltd