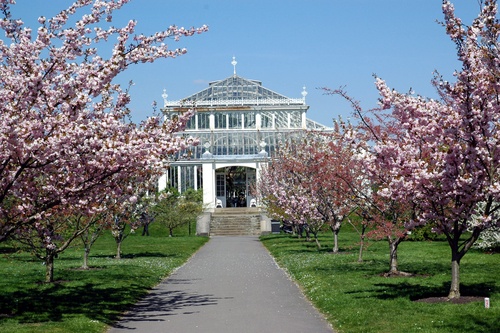 May 11, 2017 9:34 am
Spring is finally here – while in most cities you'd need to travel further into the countryside to see the beauty of flowers emerging and baby animals finding their way into the world, Londoners don't even need to go outside the M25 to see incredible spring flowers. As one of the greenest cities in the world, it offers some wonderful places to see daffodils, cherry blossoms, and crocuses (just to name a few). Here are some of our favourites.
Parks with Beautiful Cherry Blossom
Japan may be famous for its cherry blossom, but some areas of London can certainly stand up on their own. Kew Gardens is the place to be for practically any botanical interests and views in London, and cherry blossoms are no different. It has more blossom varieties than anywhere else in London, including a variety of Japanese cherries such as Hatazakura (white flowers), Kanzan (pink flowers) and the Great White Cherry.
There are also beautiful blooms at Regents Park, Kensington Gardens, St James Park, Alexandra Palace, and Greenwich Park – plenty to choose from depending on where you live and whether or not you're happy to pay entrance fees.
Where to See Flowers in London
Some of our favourite places to see flowers in general are dotted throughout London, including:
Chiswick Gardens, especially the recently restored conservatory
Canizzaro Park, which is Grade 2 listed due to its rare species of plants
Kenwood House, which has 112 acres of parks around it
Osterley Park, which is home to ancient meadows and bluebells
Hampton Court, which has more formal gardens
Isabella Plantation with its Victorian woodland and rhododendrons
Hampstead Heath Pergola which is famous for its wisteria
Bring your camera to get some beautiful photographs while everything is in bloom, or just a picnic to relax in the sunshine.
Categorised in: Date Ideas, Family Days Out, London Activities
This post was written by Matt Watts