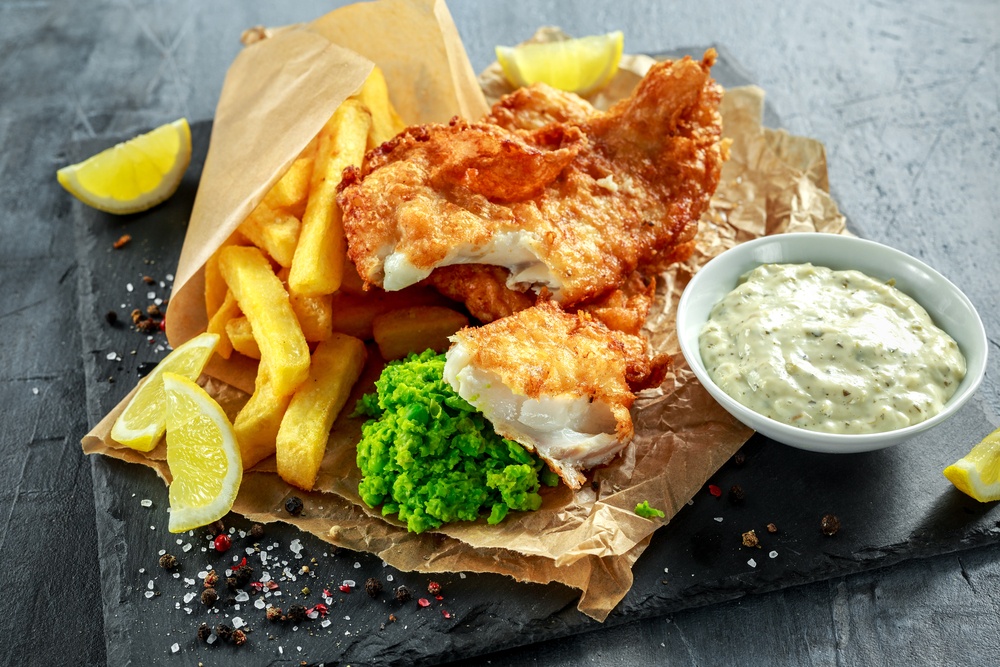 May 18, 2017 9:35 am
British cuisine may not be as widely known or appreciated as Italian or French, but we certainly have some classics that need to be experienced when you visit the UK. Make sure that you don't leave London without at least trying a few of these!
Fish and Chips
Fish and chips is a national institution – Winston Churchill called the elements of this dish 'the good companions', Michael Jackson liked it with mushy peas, and it's an essential treat for most British families. Almost 230 fried fish takeaways are served every year in the UK, making them the 5th most popular type of takeaway nationwide. It may not be diet-friendly, but it's important to treat yourself every so often.
At London Duck Tours, we feel so strongly that visitors need to try this fantastic dish that we've partnered with a chippy nearby so that you can get your traditional British meal at a discount. Great British Fish and Chips is on Westminster Bridge Road – perfect for a quick visit after your tour.
Sunday Roast
If you're lucky enough to be staying around the UK on a Sunday, pop into a restaurant or pub and order a Sunday roast. The dish has everything you could possibly ask for – roasted meat, crispy roast potatoes, a selection of vegetables (everything goes, from cauliflower cheese, broccoli, to carrots and seasonal greens), a Yorkshire pudding, all smothered in lashings of gravy. There's even a nut roast version for vegetarians. Parts of it are similar to a traditional Christmas meal, but we can have it all year round.
Sunday roasts are served everywhere from pubs to formal restaurants. The Hawksmoor is a fantastic restaurant for any beef lover, with several locations throughout London that offer a higher-end Sunday roast without the fuss. Roast at Borough Market is also famous for its fantastic Sunday roasts, and is in a similar price bracket. If you prefer a pub atmosphere, The Harwood Arms is the first Michelin-starred pub in London (and the only one too), or just pop into a pub near where you're staying between 12 and 3pm on a Sunday.
Afternoon Tea
Afternoon tea is probably the UK's best known meal, even though it's not quite a meal but a mid-afternoon snack. Choose from a selection of teas served with dainty finger sandwiches (cucumber is traditional and surprisingly good), scones with lashings of clotted cream and jam, and some pasties or cakes as well.
Over the last few years, the afternoon tea has seen a revival throughout London, so even if the idea of table linens and doilies isn't your idea of fun, you can find a modern alternative. How about a Gent's Afternoon Tea at the Sanctum Soho, which includes mini burgers, baby back ribs, and a cigar, or a Mad Hatter's Afternoon Tea at the Sanderson, which includes magic marshmallow mushrooms, curious carrot meringue, and Alice's Drink Me potion.
However, if you do want something more traditional, the Ritz is probably the best classic and opulent afternoon tea you can find, while Sketch London still offers a traditional tea but in very fashionable surroundings.
Full English Breakfast
There's no better way to start the day that a full English breakfast (or fry up) – you have everything from eggs, a selection of meats, to black pudding and hash browns. No other breakfast will keep you full for quite as long! Most hotels will offer some version of a full English, and of course you can mix and match what you want if black pudding is going a bit too far for you.
If you're willing to travel, E Pellicci's in East London have been serving full English breakfasts for over a century, so they definitely know what they're doing – even better,  their standard full English will only set you back £5.50. If you're looking for somewhere a little more quirky, try The Gantry in Brockley.
Categorised in: London Activities
This post was written by Matt Watts